Andreas Pittini's M24 with Z8001 card
Andrea owns a very complete Olivetti M24 system. Among the other things, the system is equipped with a Z8001 card which made possible using PCOS. This provided a transition solution from the M20 towards the MS-DOS system which will eventually become mainstream.

Here is what Andreas writes about his system:

Configuration of the M24:
L1.M24 SP:
CPU NEC V30 @ 10 MHz
FPU i8087 @ 10 MHz
640 kB RAM onboard
360 kB Floppy Drive 5 1/4 "
Mitsumi CD-ROM (double-speed)
300 MB Fujitsu SCSI Harddisk
40 MB MFM Harddisk
Slot 1: Olivetti EGC-Board (Display Enhancement with 640x400x16)
Slot 2: Olivetti Alternate Processor Board (Z8001)
Slot 3: empty (reserved for additional Memory Board)
Slot 4: MFM-Controller + MFM Harddrive (3 1/2 ")
Slot 5: TMC SCSI-Host Adapter
Slot 6: Creative Soundblaster + Mitsumi CD-ROM Interface
Slot 7: 10 MBit LAN-Card
In my configuration the BIOS of the SCSI-Controller will be used, when the M24 is used in 8086-Mode. If the Z8001-CPU is started, then the OS can only handle a MFM-Controller and therefor the PCOS has it's Harddrive for it's own. But I have sent you also a picture from the NEW hdisk command, which is specially for the M24, so that PCOS can handle a partitiontable.
Actually I have some trouble with my Power Supply, that means my SCSI-Drive does not work. Anyway - my MFM-Drive is working great (where PCOS resides) an so i could take some pictures.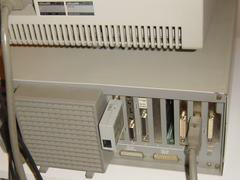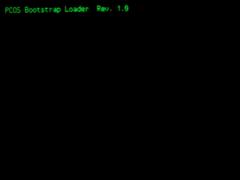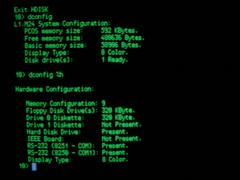 New set of picture (september 2010)
Andreas has recently sent some new, crisper pictures of his wonderful M24 equipped with the Z8001 card and the PCOS. Here they are: